COOPERS GUT
The coopers gut range uses a mixture of prebiotics and postbiotics with the aim of supporting the healthy gut flora and hind gut function, keep the horse healthy from the inside out.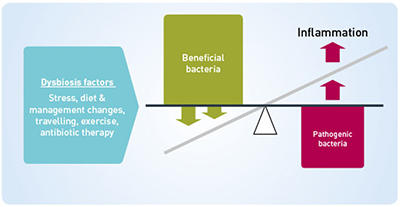 WHY IS IT IMPORTANT TO MAINTAIN HEALTHY GUT FLORA?
Healthy gut flora (beneficial bacteria) are fundamental for good fibre digestion.
Digestion of fibre occurs through fermentation by healthy (beneficial) bacteria within the gut and this process provides the horse with an essential source of slow release energy. In addition, maintaining high levels of healthy gut flora helps to keep those pathogenic (bad) bacteria at bay keeping the microbial balance in equilibrium. An imbalance in gut flora caused by too few beneficial bacteria and an overgrowth of bad bacteria is known as dysbiosis.
Dysbiosis can cause inflammation of the gut leading to clinical problems such as diarrhoea, colonic ulceration and poor body condition. In a large scale study the incidence of colonic ulceration was found to be 44% in leisure horses, increasing to 63% in performance horses.
HOW DO THE COOPERS GUT PRODUCTS SUPPORT HEALTHY GUT FLORA AND DIGESTIVE FUNCTION?
The Coopers Gut range contains a mixture of prebiotics and postbiotics which support the beneficial (good) bacteria and therefore support normal gut function.
What are Prebiotics?
Prebiotics are non-digestible food ingredients that act as a food source for the healthy bacteria within the horses' gut. They selectively stimulate the growth and/or activity of the beneficial bacteria helping to support hindgut function.
Prebiotics include gluco-oligosaccharides, xylo-oligosaccharides and fructo-oligosaccharides.
What are Postbiotics?
Postbiotics are beneficial components produced by bacteria during a fermentation process which have a positive effect on the healthy bacteria within the horses gut.
These components are likely to:
Support healthy gut bacteria by contributing to the structure of the cell wall.
Protect the healthy gut bacteria against pathogenic bacteria
Support the gut wall barrier
Support the gut's natural immune system
By using prebiotics and postbiotics to support the healthy gut flora there is no need to supplement with a probiotic (live bacteria).