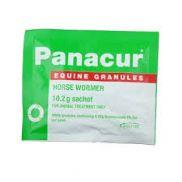 PANACUR GRANULES sachet
Click here- Product Data Sheet.
Presentation A 22% granulate formulation of Fenbendazole as a ready to administer oral anthelmintic for horses. 1 g Panacur Equine Granules contains 0.22 g active ingredient Fenbendazole, PhEur. Uses A broad-spectrum anthelmintic for the treatment and control of adult and immature roundworms of the gastro-intestinal tract in horses and other equines. Panacur also has an ovicidal effect on nematode eggs. Horses Panacur effectively treats and controls the following roundworm infections: Large strongyles (adults and migrating larval stages of S. vulgaris; adults and tissue larval stages of S. edentatus). Adult and immature small strongyles (Cyathostomes) (benzimidazole susceptible) including encysted mucosal 3rd and 4th stage larvae; it is also effective against inhibited 3rd stage larvae (encysted) in the mucosa. Adult and immature Oxyuris spp., Strongyloides spp. and Parascaris equorum.
GTIN: 5032984103441
Bulk Discounts
| | |
| --- | --- |
| Qty | Price |
| 10 - 19 | £5.63 |
| 20 + | £5.37 |