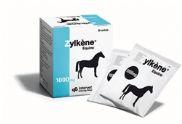 ZYLKENE Equine Single Sachets
ZYLKENEEQ 1SACHET
Zylkene Equine is an apple flavoured, easy to give powder. The contents of the sachet should be mixed with a small amount of food. The average daily intake required is 2 mg/kg and should be given once daily.
Dosage:
Zylkene Equine 1000 mg
Up to 500kg -1 sachet a day
Over 500kg -2 sachets a day
What is Zylk?ne Equine?
Zylk?ne Equine is a natural product that has been developed to help horses and ponies overcome difficult or stressful situations. Zylk?ne Equine favours rapid and smooth adaptation to changing situations. Zylk?ne has been proven to manage stress in dogs and cats and is widely used in small animal practice. Zylk?ne Equine contains -casozepine, derived from the milk protein casein. -casozepine causes partial agonism of GABA receptors1 which are involved in the regulation of emotional states. Zylk?ne Equine has not been associated with side effects such as sedation, disinhibition or memory loss at the recommended level of daily intake. Zylk?ne Equine is manufactured to human pharmaceutical standards (GMP) and is:
• hypoallergenic
• preservative free
• lactose free
Bulk Discounts
Related Products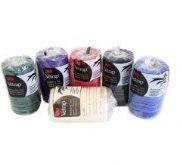 VETRAP BANDAGES
£3.00
Bulk Discounts
20 +
£2.65